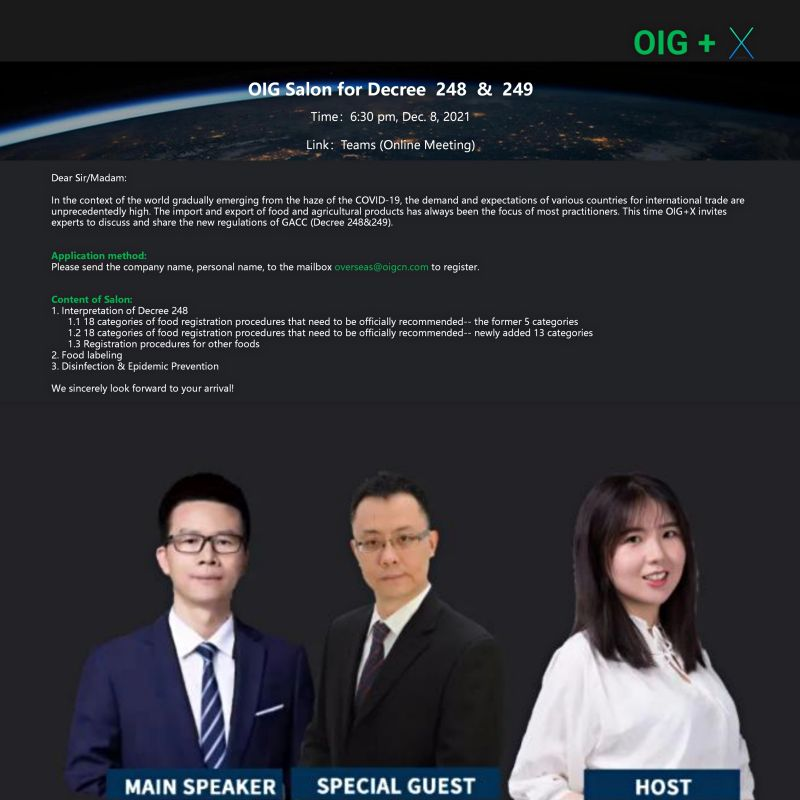 In the context of the world gradually emerging from the haze of the COVID-19,the demand and expectations of various countries for international trade are unprecedentedly high. The import and export of food and agricultural products has always been the focus of most practitioners. This time OIG+X invites experts to discuss and share the new regulations of GACC (Decree 248 & 249).
At the online Salon, we interpret Decree248 to help 3 types of companies, those are already registered, those need follow official authority to register and self-registration to know what they should do at the moment. Also, we talk about food labeling, which everyone cares the most in Decree249; and Q&A Part which allows you communicate with counterparts and solves your puzzles.
OIG's CEO Mr. Ethan Bai also will show up as a special guest.
Please noted that free registration for the early birds. If you are interested, please send email to overseas@oigcn.com, with your business card to register.
We sincerely look forward to your arrival!
-Topic: OIG Salon for Decree 248 & 249
-Time: 6:30pm (Beijing), Dec. 8, 2021
-Participants:
Attendant: Ethan, CEO of OIG
The main speaker: Binbin, Director of Youdingte Institute
The host: Kelly, Deputy Director of OIG+X
-Link: teams